Hello all
I'm happy to present to you a new guild called; Game of Thedas, aka GOT for short. (A merger of DA and Game of Thrones
)
GOT is a UK based and is primarily looking for (BUT NOT
EXCLUSIVELY
) UK & EU based players, but will welcome people from across the globe.
(The only reason GOT is primarily looking for UK/EU players is that if guild/guild events are added, the guilds times will be based around GMT -0/+1 prime time.)
If you are interested, feel free to reply here
also please provide your ally code is you are wanting to join
If/When possible, add the tag |GOT| in front of your IGN
. Also the following image has been created for use of |GOT| members in their sig if they desire.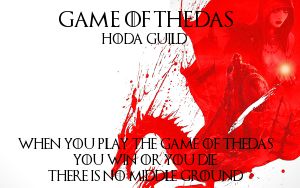 Happy gaming all, I hope to see some of you soon and remember... When you play the game of Thedas, you win or you die, there is no middle ground.
Member List:
| | | |
| --- | --- | --- |
| IGN | Forum Name | Ally Code |
| |GOT| Terrorize | Terrorize | 795-311-346 |
| |OG| |GOT| Azor Ahai | newcharacter | 128-358-429 |
| |GOT| Kiehls | Duke Prosper | |
| Shagrat | Shagrat | |
| |GOT|Warmachine | Warmachine | 681-267-788 |
| ||OG|GLAESE|GOT|| | Glaese | 777-428-459 |
| |GOT| Elizair | Elizair | 282-212-831 |
| MrDoomie | MrDoomie | 212-225-475 |
| Morbane | Morbane | 354-932-243 |
| |GOT| Aradack | Aradack | 188-685-185 |
| |GOT| Chray | Chray | 477-731-949 |
| |GOT| Draegian | Joakim Pihlstrand-Trulp | 572-318-693 |
| |GOT|MrsSatan | MrsSatan | |
| Crixus | Seeru | 848-159-956 |